Home
Mar 25, 2014
This week's theme
Words derived from card games
This week's words
euchre
vole
house of cards
spoof
trump card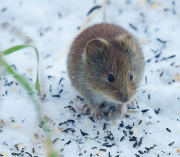 "Don't blame me if you go the vole!"
---






A.Word.A.Day

with Anu Garg


vole
PRONUNCIATION:
(vohl)

MEANING:
noun:
1. Any of various rodents of the genus Microtus and related genera.
2. The winning of all the tricks in some card games.
verb intr.:
3. To risk everything in the hope of great rewards. Typically used in the phrase "go the vole".
4. To try every possibility.



ETYMOLOGY:

For 1: Short for volemouse, from Norwegian vollmus, from voll (field) + mus (mouse). Earliest documented use: 1805.
For 2-4: From French voler (to fly), from Latin volare (to fly), which also gave us volatile and volley. Earliest documented use: 1680.




USAGE:

"So, as I was determined to go the vole, I have taken care you shall dip as deep as I."

Sir Walter Scott; Tales of My Landlord; 1819.

See more usage examples of

vole

in Vocabulary.com's

dictionary

.




A THOUGHT FOR TODAY:

Ultimately, literature is nothing but carpentry. ... With both you are working with reality, a material just as hard as wood. -Gabriel García Márquez, novelist, journalist, Nobel laureate (b. 1927)


We need your help

Help us continue to spread the magic of words to readers everywhere

Donate