Home
Aug 4, 2009
This week's theme
Eponymous pairs
This week's words
Alphonse and Gaston
Tweedledum and Tweedledee
Jekyll and Hyde
Mutt and Jeff
Darby and Joan
Tweedledum & Tweedledee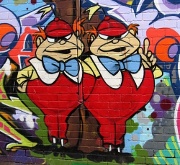 Street graffiti
Melbourne, Australia
---

Discuss

Feedback

RSS/XML

A.Word.A.Day

with Anu Garg


Tweedledum and Tweedledee
PRONUNCIATION:

(tweed-uhl-DUHM uhn tweed-uhl-DEE)

MEANING:

noun: Two persons, groups, or things that resemble each other so closely that they are virtually indistinguishable.



ETYMOLOGY:

The term is first cited in a poem by the poet John Byrom (1692-1763) about the musical rivalry of the composers Giovanni Bononcini and George Frideric Handel where he called them Tweedledum and Tweedledee:
Some say, that Signor Bononcini,
Compared to Handel's a mere ninny;
Others aver, that to him Handel
Is scarcely fit to hold a candle.
Strange! that such high dispute should be
'Twixt Tweedledum and Tweedledee.
The characters Tweedledum and Tweedledee make their appearance in Lewis Carroll's Through the Looking-Glass as well. Ultimately the names are of imitative origins, from tweedle (to produce a high-pitched sound) + dum (sound of a low musical note) and dee (sound of a high musical note).



USAGE:

"Voters often lament having to choose between tweedledum and tweedledee."
Bruce Lambert and Elissa Gootman; Tweedledum, Tweedledee and Nassau? The New York Times; Oct 29, 2001.



A THOUGHT FOR TODAY:

The court is like a palace built of marble; I mean that it is made up of very hard and very polished people. -Jean de la Bruyere, essayist and moralist (1645-1696)


We need your help

Help us continue to spread the magic of words to readers everywhere

Donate