Home
Sep 24, 2018
This week's theme
Tosspot words
This week's words
spitfire
shuteye
rotgut
clutchfist
fusspot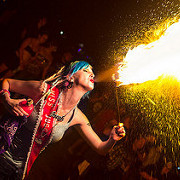 ---






A.Word.A.Day

with Anu Garg

What do fictional characters Luna Lovegood and Doctor Dolittle have in common with the real-life mathematician Ada Lovelace and playwright William Shakespeare?

If you can't figure it out, that's OK. No one is going to call you a know-nothing. OK, here's the tell-all about them: All four names are tosspot words, created by combining a verb and its object. (See more here and here.)

Do you have a tosspot name? Have you coined a tosspot word? Share it below or write to us at words@wordsmith.org.

Enjoy this week's selection of five tosspot words that are a part of the English language.
spitfire
PRONUNCIATION:
(SPIT-fyr)




MEANING:

noun: Someone high-spirited, quick-tempered, and outspoken.




ETYMOLOGY:

Describing one who appears to spit fire. Earliest documented use: 1600. A synonym, also a tosspot word, is shitfire.




USAGE:

"Played by Michala Banas with a ready scowl and a vocabulary loaded with expletives, she's a spitfire, a ball of combustible energy."

Debi Enker; Supporting Players Pack a Punch;

The Age

(Melbourne, Australia); Nov 10, 2016.

See more usage examples of

spitfire

in Vocabulary.com's

dictionary

.




A THOUGHT FOR TODAY:

If there is such a phenomenon as absolute evil, it consists in treating another human being as a thing. -John Brunner, novelist (24 Sep 1934-1995)


We need your help

Help us continue to spread the magic of words to readers everywhere

Donate