Home
Dec 22, 2008
This week's theme
Words related to the names of fish
This week's words
minnow
gudgeon
remora
inconnu
tope
Loach Minnow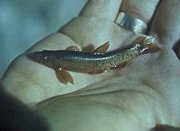 Photo: US Fish and Wildlife Service
---

Discuss

Feedback

RSS/XML

A.Word.A.Day

with Anu Garg

I remember the day I caught my first, and last, fish. I was in college. During the winter break, a friend invited me to visit him. With makeshift fishing rods in our hands we went to the dam near his house. I sat there uneasily, holding the rod with the line dipped in the still water of the reservoir. A while later there was a tug and I promptly handed over the rod to my friend. He pulled the line in. There was a small orange fish on the end. It was alive, wildly flailing at its sudden change of fortune. With a promise of food I had tricked it out of its life.

Much time has passed since then. Now whenever I'm near water and see someone sitting with a fishing rod extended over the lake, I softly say "Good luck!" in his general direction. He thanks me. I tell him I was saying that to the fish. He smiles at the apparent joke... But I wasn't joking.

All of this week's words refer to fish, but they are more than just fish words. They can also be used metaphorically in other senses.
minnow
PRONUNCIATION:

(MIN-o)

MEANING:

noun:
1. Any of the small freshwater fish of the Cyprinidae family.
2. Someone or something considered insignificant.



ETYMOLOGY:

Ultimately from Old High German munewa, a kind of fish, via Old English and Middle English.



USAGE:

"Compared with the Scottish Parliament, a regional authority in the north-east would indeed be a minnow."
Tony Travers; The Long Struggle; New Statesman (London); May 20, 2002.

See more usage examples of minnow in Vocabulary.com's dictionary.



A THOUGHT FOR TODAY:

Eyes are vocal, tears have tongues, \ And there are words not made with lungs. -Richard Crashaw, poet (1613-1649)


We need your help

Help us continue to spread the magic of words to readers everywhere

Donate