Home
Nov 18, 2013
This week's theme
Words coined after flowers
This week's words
lotus-eater
primrose path
lily-livered
sub rosa
amaranthine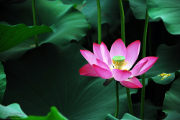 ---






A.Word.A.Day

with Anu Garg

Flowers have a language of their own. At one time, almost everyone knew that a red rose was a symbol of love, while a yellow rose was a symbol of friendship. A lily was a symbol of purity and innocence, while a chrysanthemum signified death. Symbolism varies by culture as well.

Today, in the era of virtual communications, this symbolism has withered. Yet, flowers continue to bloom in the language.

We talk about life not being a bed of roses (an easy situation); people are advised not to gild the lily (to add unnecessary improvements to something that's already satisfactory); wallflowers have difficulty attracting attention; finally, we end up pushing up daisies (when dead and buried).

This week we'll look at five terms that have roots in flowers.
lotus-eater
PRONUNCIATION:
(LO-tuhs-ee-tuhr)




MEANING:

noun: A person who indulges in idle daydreaming or leads a life of luxurious ease, instead of dealing with practical matters.




ETYMOLOGY:

From the lotus-eaters, people in Homer's Odyssey, who ate the lotus fruit that supposedly induced a dreamy forgetfulness. Earliest documented use: 1832.




USAGE:

"James Hewitt finds himself in Devon with mum, sleeping in the spare bedroom ... Life as a lotus-eater in sunny climes appears to be well and truly over."
Anna Pukas; The Major Moves Back With His Mum; Daily Express (London, UK); Nov 9, 2013.


See more usage examples of lotus-eater in Vocabulary.com's dictionary.



A THOUGHT FOR TODAY:

Little girls are cute and small only to adults. To one another they are not cute. They are life-sized. -Margaret Atwood, novelist and poet (b. 1939)


We need your help

Help us continue to spread the magic of words to readers everywhere

Donate