Home
Jul 16, 2009
This week's theme
Words from geology
This week's words
yardang
pingo
scree
inselberg
karst
Inselberg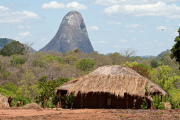 Nivali, Mozambique
---
May I make a link?
Yes. You don't need anyone's permission to make a link to a site. Linking is what makes the Web work...
more
---

Discuss

Feedback

RSS/XML

A.Word.A.Day

with Anu Garg


inselberg
PRONUNCIATION:

(IN-suhl-burg, -zuhl-)

MEANING:

noun: An isolated mountain or hill rising abruptly from its surrounding.
In the US it's known as a monadnock.



ETYMOLOGY:

From German Insel (island) + Berg (mountain), ultimately from the Indo-European root bhergh- (high) which is also the source of iceberg, belfry, borough, burg, burglar, bourgeois, fortify, and force.




USAGE:

"Perhaps the most terrifying storm I have ever been through was on Malawi's Nyika Plateau, a huge inselberg that rises out of almost nowhere."
Craig Dodds; Forecasts Say Batten Down the Hatches; Cape Times (Cape Town, South Africa); May 15, 2009.



A THOUGHT FOR TODAY:

Cowardice asks the question, 'Is it safe?' Expediency asks the question, 'Is it politic?' Vanity asks the question, 'Is it popular?' But, conscience asks the question, 'Is it right?' And there comes a time when one must take a position that is neither safe, nor politic, nor popular but one must take it because one's conscience tells one that it is right. -Martin Luther King, Jr.


We need your help

Help us continue to spread the magic of words to readers everywhere

Donate