Sep 21, 2018
This week's theme
Words that have many unrelated meanings
This week's words
columbine
raddle
mizzle
rummy
gage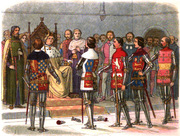 The Lords Appellant throw down their gages/gauntlets in front of Richard II
Illustration: James William Edmund Doyle in A Chronicle of England, BC 55 - AD 1485, Part 1485
This week's comments
AWADmail 847
Next week's theme
Tosspot words
---






"Here is a letter from Queen Hecuba,
A token from her daughter, my fair love,
Both taxing me and gaging me to keep
An oath that I have sworn."
William Shakespeare;
Troilus and Cressida
; 1609.
"Edward lost his temper and flung down his gage, demanding that the issue should be tried by combat."
Georgette Heyer;
My Lord John
; E.P. Dutton; 1975.
"Data is being collected on the bobcats to gage the population and their roaming territory."
Steve Scauzillo; Cities, EPA Moving to Curb Use of Rat Poison Linked to Bobcat Deaths;
San Gabriel Valley Tribune
(West Covina, California); Jul 15, 2013.
See more usage examples of
gage
in Vocabulary.com's
dictionary
.