Apr 9, 2012
This week's theme
Words of nautical origins
This week's words
doldrums
scupper
scuttlebutt
bonanza
groundswell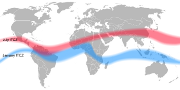 The doldrums aka Intertropical Convergence Zone
Illustration: Mats Halldin
---

Discuss

Feedback

RSS/XML
---






A.Word.A.Day

with Anu Garg

This week marks 100 years of the sinking of the Titanic, a ship believed to be virtually unsinkable. Named after the family of giants in Greek mythology, the ship has attained a mythological status of its own.

The disaster has also cemented many idioms in the language. "To rearrange chairs on the deck (of the Titanic)" is to engage in a futile or entirely pointless activity.

Another such idiom is "And the band played on." Although the selfless members of the band continued playing music to soothe and distract panicked passengers on the sinking ship, the term is now derogatory and implies putting one's head in the sand in the face of an approaching disaster.

This week we'll look at five words with nautical origins.
doldrums
PRONUNCIATION:
(DOHL-druhmz)




MEANING:

noun
1. A state or period of stagnation or slump.
2. A region of the ocean near the equator marked by calms and light variable winds.




ETYMOLOGY:

In the olden days when a sail-powered vessel hit a calm region of the ocean, it could be stuck there for days. Sailors called that area the doldrums. The word is from Old English dol (dull, stupid), the ending influenced by the word tantrum. Earliest documented use: 1811. Also see

horse latitudes

.




USAGE:

"While the US stock market roared ahead, Europe was left in the doldrums."
Ole Hansen; Commodities Update; Oman Daily Observer; Apr 4, 2012.


See more usage examples of doldrums in Vocabulary.com's dictionary.



A THOUGHT FOR TODAY:

Dreams have only one owner at a time. That's why dreamers are lonely. -Erma Bombeck, author (1927-1996)