Aug 29, 2016
This week's theme
Words related to clothing
This week's words
top-hat
coattail
hairshirt
stuffed shirt
slyboots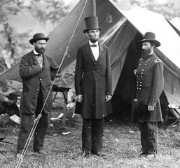 Lincoln in a top hat, 1862
Photo: Alexander Gardner/LOC
---






A.Word.A.Day

with Anu Garg

Have you ever wondered why a piece of clothing for the upper body goes in singular (a shirt), as it should, but clothing for the legs doesn't (a pair of pants)? Well, here's the scoop from pantology.*

In the old days, pants were two pieces of clothing, one cylinder for each leg. And that was good enough. A pair is a pair is a pair. No need for fitting rooms.

As one of the three basic needs for humanity, clothing has been with us for a long time. And so have the words to describe it. Many of these words are used in a metaphorical sense. This week we'll look at five of them. We'll start at the top and make our way down to the feet.

*Pantology is a word to describe a systematic view of all knowledge. For real. I didn't make it out of whole cloth.
top-hat
PRONUNCIATION:
(TOP-hat)




MEANING:

noun:
1. A man's tall, cylindrical hat.
2. An important or high-ranking person.




ETYMOLOGY:

From the association of a top hat with people of the upper class. Earliest documented use: 1881.




USAGE:

"Some understandably disgusted prominent African-American women, such as Grace Campbell, would complain to the party top-hats."

Kwame Okoampa-Ahoofe, Jr.; Is Black Literature Red-Fleshed?;

New York Amsterdam News

; Aug 26, 1999.

See more usage examples of

top-hat

in Vocabulary.com's

dictionary

.




A THOUGHT FOR TODAY:

The mind of a bigot to the pupil of the eye; the more light you pour on it, the more it contracts. -Oliver Wendell Holmes, Sr., poet, novelist, essayist, and physician (29 Aug 1809-1894)