Home
May 9, 2022
This week's theme
Words related to time
This week's words
timeous
yealing
witching hour
meridian
ephemeral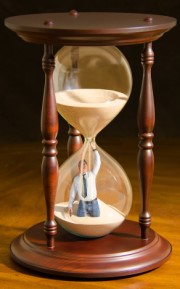 Image: Michael O'Keene / Shutterstock
Previous week's theme
New words
---






A.Word.A.Day

with Anu Garg

It's something we all want more of, but can't (yet) order from Amazon.

We are talking about time.

Can't slow it or speed it up,* or reverse it. DeLorean and time turner remain fiction. Tesla hasn't announced the feature yet.

Time, the thing that never stops. Not for kings, not for presidents, not even for Gates, Bezos, or Musk. (Why isn't he named Musks?)

Time, the independent variable. Time, on which depend the definitions of even mass, distance, temperature, and more. (See NYT, permalink)

This week in this space we'll feature time, or words about time.

What are your best timesaving tips? Share below or email us at words@wordsmith.org. As always, include your location (city, state).

*Small print: see time dilation.
timeous
PRONUNCIATION:
(TY-muhs)




MEANING:

adjective: In good time.




ETYMOLOGY:

From time, from Old English tima (time). Earliest documented use: 1482.




USAGE:

"I knew Bridget always ran out of supplies during a party and thought I should make timeous provision."
Andre Brink; Before I Forget; Sourcebooks; 2007.




A THOUGHT FOR TODAY:

Remove all periods / They are scars made by words / I couldn't bring myself to say -Charles Simic, poet (b. 9 May 1938)


We need your help

Help us continue to spread the magic of words to readers everywhere

Donate