Apr 6, 2015
This week's theme
Kangaroo words
This week's words
quiescent
catacomb
perambulate
expurgate
frangible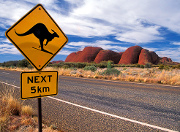 Kangaroo words—next 5 days
---






A.Word.A.Day

with Anu Garg

Kangaroo words didn't originate in Australia. Nor do they hop across the pages of a book. The reason they are called kangaroo words is that they carry a tinier version of themselves within. Maybe we should call them marsupial words.

Here's an example. The word 'curtail' has 'cut' in its spelling, 'respite' has 'rest', and 'splotch' has 'spot'. This week we'll feature five kangaroo words. See if you can identify their joeys.

There are two rules about kangaroo words:
The letters of a joey should be in order.
Not all letters can be adjacent. So 'enjoy'/'joy' don't count.
quiescent
PRONUNCIATION:
(kwee-ES-uhnt, kwy-)




MEANING:

adjective: Still; inactive; not showing symptoms.




ETYMOLOGY:

From Latin quiescere (to rest), from quies (quiet). Earliest documented use: 1605.




USAGE:

"Given how quiescent wages and prices remain, rate rises seem still at least a year away."

Jobs are Not Enough;

The Economist

(London, UK); Jul 19, 2014.

See more usage examples of

quiescent

in Vocabulary.com's

dictionary

.




A THOUGHT FOR TODAY:

Pleasure may come from illusion, but happiness can come only of reality. -Nicolas de Chamfort, writer (6 Apr 1741-1794)