Home
May 14, 2018
This week's theme
Words made with combining forms
This week's words
megalomania
leptodermous
saprogenic
ectogenous
carcinogenic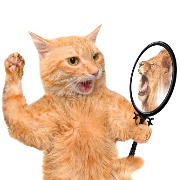 Image: Rasulovs/iStock
---






A.Word.A.Day

with Anu Garg

"Take two and call me in the morning." That could be a good advice in lots of situations.

Let's say you're looking for a word to describe something. Perhaps you can take two words and combine them to build a new word. For example, you want to describe a president who has delusions of grandeur. You pick up two building blocks, such as megalo- (large) + -mania (craze), and there you have your megalomaniac.

What are combining forms? You can think of them as Lego (from Danish, leg: play + godt: well) bricks of language. As the term indicates, a combining form is a linguistic atom that occurs only in combination with some other form which could be a word, another combining form, or an affix (unlike a combining form, an affix can't attach to another affix).

This week we'll look at five words that are made using these combining forms:
megal- (large), lepto- (thin), sapro- (rotten), ecto- (outside), carcino- (cancer)
and
-mania (excessive enthusiasm or craze), -dermous (skin), -genic/genous (producing).
megalomania
PRONUNCIATION:
(meg-uh-lo-MAY-nee-uh)




MEANING:

noun: A mental illness characterized by delusional fantasies of greatness, wealth, power, etc.




ETYMOLOGY:

From Greek megal- (large, great) + Latin -mania (excessive enthusiasm or craze). Earliest documented use: 1885.




USAGE:

"'We are taking over the world of yoga.' At the graduation day for 500 Startups, a school for entrepreneurs in Silicon Valley, such statements of focused megalomania are the norm. 'We will own this space,' predicts the founder of a company."

Everybody Wants to Rule the World;

The Economist

(London, UK); Nov 27, 2014.

See more usage examples of

megalomania

in Vocabulary.com's

dictionary

.




A THOUGHT FOR TODAY:

Although a democracy must often fight with one hand tied behind its back, it nonetheless has the upper hand. -Aharon Barak, law professor, former President of the Supreme Court of Israel (b. 1936)


We need your help

Help us continue to spread the magic of words to readers everywhere

Donate