Home
Jun 27, 2022
This week's theme
Words originating in the hand
This week's words
mainpast
openhanded
light-fingered
thumbsucker
southpaw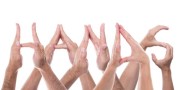 Image: pasiphae / 123rf
Previous week's theme
Autological words
---






A.Word.A.Day

with Anu Garg

Each of this week's words has a hand in its origin.

A hand in whose origin?

All of this week's words are handmade.

As opposed to machine-made?

Well, we've picked these words because this week we are featuring words originating in the hand. Sometimes it's obvious, sometimes not, but it is an all-hands meeting of words.
mainpast
PRONUNCIATION:
(MAYN-past)




MEANING:

noun:
1. A household.
2. A member of a household.
3. A servant.
4. A dependent.




ETYMOLOGY:

From Old French mainpast (household), from Latin manupastus (household or its member), from manus (hand) + pastus, past participle of pascere (to feed). Earliest documented use: 1865.




USAGE:

"I told him it wasn't up to me, that I was in the queen's mainpast."
Harold Covington; Rose of Honor; Dorrance; 1980.




A THOUGHT FOR TODAY:

The highest result of education is tolerance. -Helen Keller, author and lecturer (27 Jun 1880-1968)


We need your help

Help us continue to spread the magic of words to readers everywhere

Donate