Home
May 30, 2022
This week's theme
Portmanteaux (blend words)
This week's words
frenemy
glamp
insinuendo
coopetition
glamazon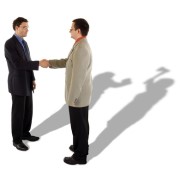 Image: Icefront / Dreamstime
Previous week's theme
Words that sound dirty (but aren't)
---






A.Word.A.Day

with Anu Garg

Normally, you'd expect a cup of coffee to have coffee and water. Maybe some (non-dairy!) milk. Yet, when at Starbucks, some get carried away, coming up with a literally tall order, made of a ridiculously long list of ingredients. (link, permalink)

Well, we give these coffee drinkers an A in thinking outside the cup and a D in taste. ("Dude just give them the blender at this point," one TikTok user joked.)

Language works somewhat like this at times. We take two or more words and blend them to come up with a new word (motor + hotel = motel). This week we'll feature five such words, also known as portmanteaux. We'll blend, but we're not getting carried away. Only two ingredients per word.

What blends have you come up with by combining two or more words? Share below or email us at words@wordsmith.org. Include your location (city, state). Google first to make sure the word you coined is new, not one that's already out there.
frenemy
PRONUNCIATION:
(FREN-uh-mee)




MEANING:

noun: Someone with whom one is friendly, despite feeling hostility.




ETYMOLOGY:

A blend of friend + enemy. Earliest documented use: 1891.




USAGE:

"Another question is whether Dubai can stay ahead of regional rivals that covet its crown. Oil-rich Abu Dhabi, a 90-minute drive away, is a frenemy: it is both a source of bail-outs and a would-be usurper."
Navigating the Storm; The Economist (London, UK); Aug 22, 2020.




A THOUGHT FOR TODAY:

Speculation is perfectly all right, but if you stay there you've only founded a superstition. If you test it, you've started a science. -Hal Clement, science fiction author (30 May 1922-2003)


We need your help

Help us continue to spread the magic of words to readers everywhere

Donate