Home
Jul 13, 2009
This week's theme
Words from geology
This week's words
yardang
pingo
scree
inselberg
karst
Yardang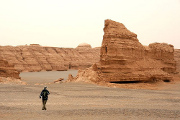 Yardan National Geological Park, China
Give a gift that ...
keeps on giving, all year long
A gift subscription of AWAD
---

Discuss

Feedback

RSS/XML

A.Word.A.Day

with Anu Garg

Last month, with my wife and daughter, I visited the famous sand dunes on the Oregon Coast, a few hours south of Seattle. The Oregon Coast on the Pacific Ocean has miles of pristine beaches, parts of which are dotted with sand dunes hundreds of feet high.

How are they formed? Over the years, boulders tumbling in the water turn into fine sand, and wind sculpts this sand into ever-changing dunes. Standing in that vast expanse of pure sand felt like being in a desert. Handling those grains of sand, I wondered if I were touching people who lived thousands of years ago.

After rolling on a sand dune one brings home much sand, unintentionally. It's in the hair, ears, pockets, and elsewhere. And I brought something else -- today's word, which I discovered while learning about the wind as a sculptor.

In this week's AWAD we'll see words to describe sculptures formed by nature.
yardang
PRONUNCIATION:

(YAHR-dahng)

MEANING:

noun: An elongated ridge formed by wind erosion, often resembling the keel of an upside down ship.



ETYMOLOGY:

From Turkic yar (steep bank).



USAGE:

"There are about 50 yardangs on Edwards [Air Force Base], with the largest about 15 feet high and 150 feet long. Base biologist Mark Hagan described them as looking like upside-down ship hulls."
Jim Skeen; Unearthly Qualities Fossil Sand Dunes Provide Clues to Mars: Los Angeles Daily News; Dec 26, 2000.



A THOUGHT FOR TODAY:

Every man feels instinctively that all the beautiful sentiments in the world weigh less than a single lovely action. -James Russell Lowell, poet, editor, and diplomat (1819-1891)


We need your help

Help us continue to spread the magic of words to readers everywhere

Donate