Home
Aug 8, 2011
This week's theme
What do these car names mean?
This week's words
paseo
accord
prius
impresa
corolla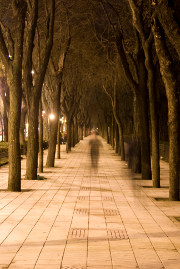 Paseo de Rosales, Madrid
---

Discuss

Feedback

RSS/XML
---






A.Word.A.Day

with Anu Garg

A recent article in The New York Times talks about the backlash against automobiles. Many countries, especially in Europe, are realizing the huge toll cars take in return for convenience.

Many cities are taking measures to reduce the clogging of roads by making it hard to drive. In some places traffic lights favor public transport. Others have designated slow speed zones where drivers have to drive so slowly that a pedestrian can cross a street at any time without waiting for a signal. The Toyota Paseo may be just the car for those zones.

Have you ever stopped to wonder what all these car names mean? Often they are coined words or a mix of letters and numbers, but sometimes they are actual dictionary words. This week we've picked five from the latter group.

Look to see if your car makes an appearance here. If not, check out a previous week of car names in AWAD.
paseo
PRONUNCIATION:

(pah-SAY-oh)

MEANING:

noun:
1. A leisurely stroll.
2. A place or path designed for walking.
3. A street or boulevard.



ETYMOLOGY:

From Spanish pasear (to take a stroll), frequentative of pasar (to go, to pass), from Latin passus (step). Earliest documented use: 1832.



USAGE:

"The idea was to turn the alleys into beachlike paseos to enchant pedestrians."
Fred Swegles; San Clemente Takes Down Paseo Lights; The Orange County Register (California); Nov 7, 2010.

See more usage examples of paseo in Vocabulary.com's dictionary.



A THOUGHT FOR TODAY:

The most dangerous of all falsehoods is a slightly distorted truth. -Georg Christoph Lichtenberg, scientist and philosopher (1742-1799)


We need your help

Help us continue to spread the magic of words to readers everywhere

Donate