Home
Nov 17, 2014
This week's theme
Words borrowed from German
This week's words
gemeinschaft
strafe
gleichschaltung
sitzkrieg
leitmotif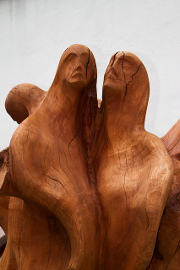 Die Gemeinschaft, a sculpture by Ferdinand Lackner, Salzburg, Austria
---






A.Word.A.Day

with Anu Garg

While German's reputation for long words is well-deserved (average word length in English: 8.2 characters, in German: 11.7 characters, source), it does have words of varying lengths.

English doesn't hesitate to borrow words from another language even if it makes it look fat. From German we have borrowed one-syllable putsch and kitsch, as well as Scrabble-defying gotterdammerung and sprachgefuhl.

Mark Twain once said, "I would do away with those great long compounded words; or require the speaker to deliver them in sections, with intermissions for refreshments." This week we'll see some loanwords from German, words that are short and words that are long. Don't hesitate to take a break for refreshments, as needed.
gemeinschaft
PRONUNCIATION:
(guh-MYN-shaft)




MEANING:

noun: Social relations based on personal ties, affection, kinship, etc.




ETYMOLOGY:

From German Gemeinschaft (community), from gemein (common) + -schaft (-ship). Earliest documented use: 1937.




NOTES:

The counterpart of Gemeinschaft (community) is Gesellschaft (society), that is, social relations marked by impersonal ties, such as duty to society or to an organization.




USAGE:

"As with those small-town figures, the doorman's knowledge of a person can be worrying, but it is comforting, too. The doorman is a touch of Gemeinschaft in an ever more Gesellschaft world."
James Collins; Why Doormen?; The New York Times; Apr 25, 2010.




A THOUGHT FOR TODAY:

We are a landscape of all we have seen. -Isamu Noguchi, sculptor and architect (1904-1988)


We need your help

Help us continue to spread the magic of words to readers everywhere

Donate