Home
Dec 8, 2008
This week's theme
Words related to the shaping of trees
This week's words
espalier
topiary
pleach
bonsai
pollard
A Ginkgo Espalier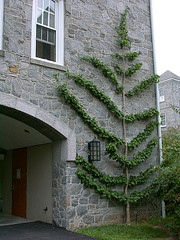 ---

Discuss

Feedback

RSS/XML

A.Word.A.Day

with Anu Garg

A few months back I featured this quotation from the journalist Hal Borland (1900-1978): "You can't be suspicious of a tree, or accuse a bird or a squirrel of subversion or challenge the ideology of a violet."

Astute linguaphile Mark Germer wrote in response:

"Recent work on information processing (even kin recognition) in plants suggests that there may be more going on there than we now understand; as for birds and mammals, it has long been appreciated that they are perfectly capable of deception and subversion. For my part, I don't find these things odd or disturbing, as it's the continuity of all life that intrigues me most. Humans are not alone in their baseness -- though a few may be alone in their desire to rise above it."


Mark said it well. There's more to trees and plants than we think (see Nature). So next time you pluck an apple from a tree or trim that hedge, be aware that it may not be as oblivious as you think.

This week's words relate to what we do to the trees: chopping, trimming, twisting, bending, and stunting as we shape them.
espalier
PRONUNCIATION:

(i-SPAL-yuhr, -yay)

MEANING:

noun: A tree trained to grow flat against a wall.
verb tr.: To train a tree in such a way.



ETYMOLOGY:

From French espalier, from Italian spalliera (shoulder support), from spalla (shoulder), from Latin spatha (broadsword).



NOTES:

The word originally referred to the trellis or framework on which a tree was trained to grow in a plane. Typically fruit trees such as apple and pear are grown as espaliers. The advantages of an espalier are that it can be grown in a small space, gets more sunlight, and provides easier access to the fruit.



USAGE:

"First, you get to see the Food Garden with all its first-class espaliered fruit trees trained into the shape of vases and goblets, as well as the classic Belgian fence."
Steve Whysall; Tale of Two Gardens (University of B.C. Botanical Garden and the Nitobe Memorial Garden); Vancouver Sun (Canada); Aug 29, 2008.

See more usage examples of espalier in Vocabulary.com's dictionary.



A THOUGHT FOR TODAY:

What can be added to the happiness of a man who is in health, out of debt, and has a clear conscience? -Adam Smith, economist (1723-1790)