Home
Feb 9, 2009
This week's theme
Words derived from birds
This week's words
columbarium
pied
roustabout
crestfallen
canard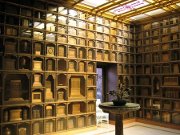 Columbarium in Chapel of the Chimes, Oakland, California
Photo: Lori Matsumoto
Spread the word
Send a gift subscription
---

Discuss

Feedback

RSS/XML

A.Word.A.Day

with Anu Garg

Birds don't get any respect. Beginning with "bird brain" that paints all birds with the same brush, the English language is littered with expressions that defame our feathered friends. Individual birds have their own problems in the language. If you call someone chicken, you imply he is cowardly; someone labeled a peacock is vain. Naming a person a magpie means she is talkative or a hoarder, and a jay is a gullible person. A rooster is the inspiration behind the word cocky, then there are sitting duck, dodo, dotterel... The list is endless.

Not so fast. Birds are smarter than you think. Take a look at these videos (1, 2), for example.

This week we'll discuss five words derived from birds, though their avian connections are not always so obvious.
columbarium
PRONUNCIATION:

(kol-uhm-BAR-ee-uhm)

MEANING:

noun:
1. A vault with niches for storing urns.
2. A dovecote or pigeon house.



ETYMOLOGY:

From Latin columbarium, from columba (pigeon, dove).



USAGE:

"The group's [Americans United for Separation of Church and State] director, Rev. Barry Lynn, says the Berkeley proposal should be 'promptly laid to rest,' by allowing places for unbelievers' ashes, either in columbarium or privately held -- like ashes in a box on your mantel.' Otherwise, it's ashes to ashes, dust to dust -- but not to Berkeley."
Unbelievers' Ashes May Be Unwelcome in Berkeley; USA Today; Jan 29, 2009.

See more usage examples of columbarium in Vocabulary.com's dictionary.



A THOUGHT FOR TODAY:

Whatever a man prays for, he prays for a miracle. Every prayer reduces itself to this: Great God, grant that twice two be not four. -Ivan Turgenev, novelist and playwright (1818-1883)
We need your help

Help us continue to spread the magic of words to readers everywhere

Donate