Home
Sep 26, 2017
This week's theme
Words to describe people
This week's words
drama queen
illiterati
dastard
samfie
mammothrept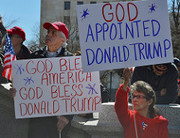 ---






A.Word.A.Day

with Anu Garg


illiterati
PRONUNCIATION:
(i-lit-uh-RAH-tee)




MEANING:

noun: Illiterate or uninformed people.




ETYMOLOGY:

From Latin illitterati, plural of illiteratus (illiterate). Earliest documented use: 1788.




USAGE:

"No one wanted to shoot booksellers, I assured myself -- except for illiterati and television executives during sweeps month."
Joan Hess; A Really Cute Corpse; St Martins Press; 1988.

"Robert Dennis, a professor of biomedical engineering at the University of North Carolina in Chapel Hill, said, ... 'global climate change [is] still vehemently denied by the scientific illiterati.'"
Michael Specter; Test-Tube Burgers; The New Yorker; May 23, 2011.




A THOUGHT FOR TODAY:

The Hollow Men: Between the idea / And the reality / Between the motion / And the act / Falls the shadow. -T.S. Eliot, poet (26 Sep 1888-1965)


A.Word.A.Day by email:

Subscribe

"The most welcomed, most enduring piece of daily mass e-mail in cyberspace."