Oct 7, 2015
This week's theme
Bird words
This week's words
gannet
snipe
dodo
magpie
dotterel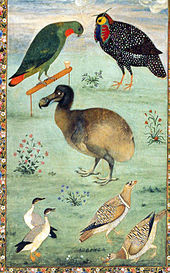 Dodo (center) among Indian birds
Art: Ustad Mansur, c. 1625
---






From Portuguese doudo/doido (silly, fool). Ultimately from the Indo-European root ors- (buttocks) which also gave us ass,
cynosure
, and
squirrel
. Earliest documented use: 1628.
"When the spotlight fell on Alvaro Morata, it shone on a dandy not a dodo."
Graham Hunter; Magical Morata Shows He is Seriously Good;
Mail on Sunday
(London, UK); Sep 20, 2015.
"But the government should have little reason to believe a broadcasting and telecommunications regulator is a dodo."
Kate Taylor; Sex, Television, and Canadian Content Rules;
The Globe and Mail
(Toronto, Canada); Dec 27, 2014.
See more usage examples of
dodo
in Vocabulary.com's
dictionary
.