Home
Jun 13, 2017
This week's theme
Words borrowed from Persian
This week's words
satrap
dervish
baksheesh
ayatollah
pasha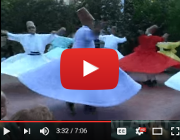 Whirling dervishes (4 min.)
---






A.Word.A.Day

with Anu Garg


dervish
PRONUNCIATION:
(DUHR-vish)




MEANING:

noun:
1. A Muslim monk of various ascetic orders, some of whom take part in ecstatic rituals such as whirling dances or chants.
2. Someone who exhibits frenzied movements.




ETYMOLOGY:

From Turkish, from Persian darvish (poor, beggar). Earliest documented use: 1585.




USAGE:

"Max thrusts and struts her way through each one, starting slowly with the feet, speeding up, then adding the arms until she becomes a sweat-streaked Lycra dervish."

Anna Burnside; Lorraine Kelly and Trainer Pal Launch Fitness DVD;

Daily Record

(Glasgow, Scotland); Dec 26, 2016.

See more usage examples of

dervish

in Vocabulary.com's

dictionary

.




A THOUGHT FOR TODAY:

The intellect of man is forced to choose / Perfection of the life, or of the work, / And if it take the second must refuse / A heavenly mansion, raging in the dark. -William Butler Yeats, writer, Nobel laureate (13 Jun 1865-1939)


A.Word.A.Day by email:

Subscribe

"The most welcomed, most enduring piece of daily mass e-mail in cyberspace."