Home
Aug 11, 2017
This week's theme
Words related to medicine
This week's words
antitussive
aperient
emetic
diuretic
analgesic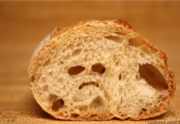 Le Pain
This week's comments
AWADmail 789
Next week's theme
Words from animals
---






A.Word.A.Day

with Anu Garg


analgesic
PRONUNCIATION:
(an-uhl-JEE-zik, -sik)




MEANING:

adjective: Reducing or eliminating pain.
noun: Something that reduces or relieves pain.




ETYMOLOGY:

From Latin analgesia (absence of pain), from Greek analgesia, from an- (not) + algos (pain). Earliest documented use: 1852.




USAGE:

"Many people argue that Mr Abe's monetary and fiscal stimulus has served only as an analgesic, masking the need for radical structural reform."

Overhyped, Underappreciated;

The Economist

(London, UK); Jul 30, 2016.

See more usage examples of

analgesic

in Vocabulary.com's

dictionary

.




A THOUGHT FOR TODAY:

The hands that help are better far / Than lips that pray. / Love is the ever gleaming star / That leads the way, / That shines, not on vague worlds of bliss, / But on a paradise in this. -Robert Green Ingersoll, lawyer and orator (11 Aug 1833-1899)


A.Word.A.Day by email:

Subscribe

"The most welcomed, most enduring piece of daily mass e-mail in cyberspace."