Oct 2, 2007
This week's theme
Miscellaneous words
This week's words
deleterious
oligarchy
moliminous
lugubrious
multeity
---
A Word A Day
the book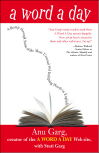 "Delightful."
-The New York Times
Buy
---

Discuss

Feedback

RSS/XML
---






A.Word.A.Day

with Anu Garg


oligarchy
oligarchy (OL-i-gar-kee) noun

A government in which a few people control all power.

[From Greek oligos (few) + archos (ruler).]

See more usage examples of oligarchy in Vocabulary.com's dictionary.

"We are dangerously close to creating an oligarchy in this country, whereby we will be governed by a select group of people wearing black robes."
Sadie Fields; Candidates' Survey Serves as Helpful Tool; The Atlanta Journal-Constitution (Georgia); Jul 16, 2004.
X-Bonus
The real measure of our wealth is how much we'd be worth if we lost all our money. -John Henry Jowett, preacher (1864-1923)