Home
Jul 17, 2007
This week's theme
Words from the writing of Judge Bruce M. Selya
This week's words
aposematic
pleochroic
pastiche
haboob
resipiscent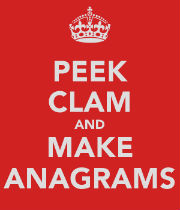 Make anagrams here
---






A.Word.A.Day

with Anu Garg


pleochroic
(plee-uh-KRO-ik)

adjective: Showing different colors when viewed from different directions.
[From Greek pleo- (more) + -chroic (having a color).]
"The plaintiffs cloaked this theory in pleochroic raiment; their multitudinous statements of claim included counts for declaratory judgment, rescission, breach of contract, unjust enrichment, breach of a covenant of good faith and fair dealing, breach of fiduciary duty, and civil conspiracy."
Excerpt from opinion of the court (Selya, J.) in Buck v. American Airlines, Inc., 2007.
See more usage examples of pleochroic in Vocabulary.com's dictionary.
X-Bonus
Conceal a flaw, and the world will imagine the worst. -Martial (Marcus Valerius Martialis)
We need your help

Help us continue to spread the magic of words to readers everywhere

Donate