Feb 2, 2015
This week's theme
Words from the Bible
This week's words
nimrod
via dolorosa
scapegoat
gethsemane
samaritan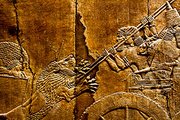 The Monastery of St. Matthew, Iraq
---






A.Word.A.Day

with Anu Garg

The beginning of 2015 means the starting of engines in the US presidential race. The elections will be held in late 2016, but around here we like to start early.

POTUS, the President of the United States, is a potent title. Stakes are high. If you have your eyes on the big prize, it helps to have endorsements from powerful people. And if you can manage to get the nod from the ultimate power, things should be breezy.

In the last election for the US president, no fewer than three presidential hopefuls received the backing of god. Clearly god likes to hedge his bets. Not sure why he changed his mind later on and dumped all three endorsees.

All the religious posturing by these politicians to convey their goodness should be an obvious turn off. Unfortunately, many voters want the candidates to wear their religion on their sleeves. Contrary to what they believe, religiosity doesn't necessarily imply goodness. (See here and here.)

Religion is a personal thing. People should be free to spend as much time as they want in their places of worship or in their homes, praying to a god of their choosing. Why get government involved in the business of god (or god in the business of government)?

Why not vote for the most capable candidate irrespective of whether she bows to a particular god, or how often, or how long? Mixing religion and state is like mixing water and petrol. It spoils both. And it creates a hazard.

At one time both the religious leader and the political leader was one and the same person. In some places that's still the norm and the results are disastrous.

Millennia of religion have left a mark on the language. I'm not religious, but I'll read anything to track down words. This week we'll see five people, places, and animals from the Bible that are now part of the English language.
nimrod
PRONUNCIATION:
(NIM-rod)




MEANING:

noun:
1. A stupid person.
2. A hunter.




ETYMOLOGY:

In the Bible, Nimrod was a hunter and Noah's great-grandson. It's not clear how the sense of the word transferred from a hunter to a stupid person, but the new sense was popularized in the Bugs Bunny cartoons when Bugs Bunny called rabbit-hunting Elmer Fudd as "Poor little Nimrod". Earliest documented use for sense 1: 1933, for sense 2: 1623. Even earlier, the first recorded use in English is from 1548, in a now-obsolete sense as a tyrant.




USAGE:

"What kind of a nimrod makes kids the responsible party in a dim-witted ideology on poverty and neglect?"

Martin Hackworth;

Ignoramus, of the Bloviating Type

;

Idaho State Journal

(Pocatello); Feb 3, 2013.

"The big-ticket item at their giant auction was a nimrod package to go hunting."

Dick Harmon; Hunt Nets Dough for Y;

Deseret News

(Salt Lake City, Utah); Jun 12, 2004.

See more usage examples of

nimrod

in Vocabulary.com's

dictionary

.




A THOUGHT FOR TODAY:

The absence of flaw in beauty is itself a flaw. -Havelock Ellis, physician, writer, and social reformer (2 Feb 1859-1939)