Oct 18, 2018
This week's theme
Words borrowed from Native American languages
This week's words
cornpone
bayou
sagamore
mugwump
totem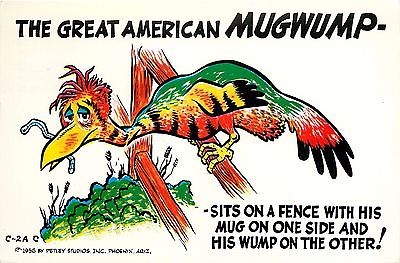 ---






A.Word.A.Day

with Anu Garg


mugwump
PRONUNCIATION:
(MUG-wump)




MEANING:

noun: An independent, especially in politics.




ETYMOLOGY:

From Massachusett mugquomp (leader, great man). Massachusett is a language in the Algonquian language family. Earliest documented use: 1828.




NOTES:

The word mugwump was used in 1884 to describe a Republican who refused to support their presidential candidate James Blaine due to his reputation for corruption. These Republicans instead supported the Democratic candidate Grover Cleveland ensuring his victory.
The word is sometimes explained as denoting a person who sits on the fence, with his mug (face) on one side and wump (rump) on the other.




USAGE:

"This week's Newspoll confirms rising numbers of mugwumps in Australia. They're darting off in different directions, away from Australia's once influential and long-governing centre-right political party."

Janet Albrechtsen; Vacancy Sign Hangs on the Home of Centre-Right;

The Australian

(Canberra); May 17, 2017.

See more usage examples of

mugwump

in Vocabulary.com's

dictionary

.




A THOUGHT FOR TODAY:

The past is to be respected and acknowledged, but not to be worshipped. It is our future in which we will find our greatness. -Pierre Trudeau, 15th Prime Minister of Canada (18 Oct 1919-2000)



On a scale of 1 to 10 how likely are you to use this word?