Home
Feb 8, 2021
This week's theme
There's a word for it!
This week's words
glossophobia
agathokakological
pensum
perlage
sialoquent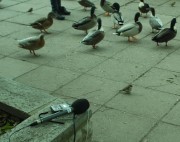 Microphone-Shy Birds
Previous week's theme
Eponyms
---






A.Word.A.Day

with Anu Garg

Yes, there's a word for the fear of public speaking. Also, there's a word for someone who spits while speaking -- we'll share that word with you on Friday. In between, we'll bring you other words that might make you say: I didn't know there was a word for that!

What words have you coined to fill the gaps in the English language? Share them below or email us at words@wordsmith.org. Before you share your coinage make sure to google it to make sure it doesn't already exist.
glossophobia
PRONUNCIATION:
(glas-uh-FOH-bee-uh)




MEANING:

noun: The fear of public speaking.




ETYMOLOGY:

From Greek glosso- (tongue, language) + -phobia (fear). Earliest documented use: 1964.




USAGE:

"Year after year in the UK, glossophobia claims the top spot as Britain's no. 1 phobia, repeatedly knocking 'fear of death' down into second position. ... At a funeral, the average Briton would rather be in the casket than deliver the eulogy."
Richard O. Smith; The Man with His Head in the Clouds; Signal Books; 2015.




A THOUGHT FOR TODAY:

When a man is wrapped up in himself he makes a pretty small package. -John Ruskin, author, art critic, and social reformer (8 Feb 1819-1900)


We need your help

Help us continue to spread the magic of words to readers everywhere

Donate