Home
Mar 15, 2021
This week's theme
Places that have given us multiple toponyms
This week's words
coventry
Roman matron
Canterbury tale
Trojan horse
Kentish cousins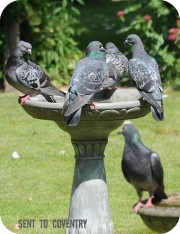 Previous week's theme
Euryvocalic words
---






A.Word.A.Day

with Anu Garg

Having a word coined after yourself -- that's quite an achievement -- doesn't happen all that often. Examples: Socratic irony and Socratic method.

You're more likely to win a Nobel prize than to have a word, known as an eponym (from Greek ep-: after + -onym: name), coined after you. Let's just call such people overachievers.

Then there are words coined after places, known as toponyms (from Greek topos: place). Again, it's rare to have a word coined after a place name, but there are some places -- overachievers of sorts -- that have given us multiple words.

This week, we'll visit five places and look at words coined after them. In a couple of weeks, we'll revisit them and look at another word that came from there.
Coventry
PRONUNCIATION:
(KUV-uhn-tree)




MEANING:

noun: A state of ostracism.




ETYMOLOGY:

After Coventry, a city in central England. It's unclear how Coventry developed this sense. One conjecture is that Royalist prisoners were sent there during the English Civil War. Earliest documented use: 1691. Also see

stellenbosch

.




USAGE:

"When I was about twelve, all the girls at school stopped talking to me ... I arrived at school and gradually realized that I had been sent to Coventry. It made me miserable, so upset."

Rowan Coleman;

The Day We Met

; Ballantine; 2015.

See more usage examples of

Coventry

in Vocabulary.com's

dictionary

.




A THOUGHT FOR TODAY:

Beware the stories you read or tell; subtly, at night, beneath the waters of consciousness, they are altering your world. -Ben Okri, poet and novelist (b. 15 Mar 1959)


We need your help

Help us continue to spread the magic of words to readers everywhere

Donate